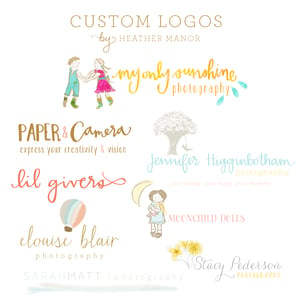 $

100.00
**PLEASE READ ALL OF THE INFORMATION BELOW BEFORE PURCHASING!!**
A custom logo designed just for you by Heather Manor, founder of Girl Hearts Camera and the creator of the daily planner for photographers: Your Photography Business on Paper.
A custom logo is an exclusive logo with every element customized to perfectly reflect you & your brand. You will work closely with Heather to achieve the perfect custom logo you have been dreaming of! From hand lettered fonts to hand drawn & painted elements, your logo will be a true work of art created JUST for YOU!
A custom logo includes:
-Your choice of a custom hand lettered font or premium commercial fonts
-Your choice of hand drawn elements or illustrated graphics
-All files in .PSD, .JPEG & .PNG formats with other files provided per request
-Social Media Icons created to match your logo are available for a small additional fee
After you purchase your custom logo, Heather will send you a welcome email within 24 hours that will include an exclusive project manager. The project manager will guide you through the process and explain in more detail what you can expect during our time together.

The price for a custom logo is $375. You can choose TWO options for purchasing:
1. Pay the FULL amount of the logo upfront and enjoy a 20% discount making the total price for the logo only $300
-OR-
2. Pay a $100 deposit for your logo with a balance of $275 due upon completion of your custom logo project. By purchasing the deposit listing, you agree & understand that you will have a balance of $275 to pay before receiving your custom logo.
The first available date is September 9, 2013. Once that date has been purchased, a new date will be added.
Turn around time for your custom logo is 2-4 weeks after your project date begins, dependent on changes & communication.